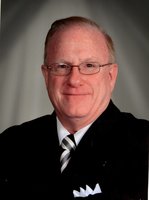 Dennis Higgins Sr.
Pastor Dennis Higgins, Sr. of Palmyra, NJ, was born on February 22,1951 in Philadelphia to Thomas and Mary Higgins. He went to be with his Saviour on November 12, 2019 at home surrounded by his beloved family.
After graduating from Philadelphia College of Bible, Pastor Higgins embarked on a lifelong journey of planting churches in the Philadelphia area including Christ Independent Baptist in the Frankfort section of Philadelphia, Faith Independent Baptist in South Philadelphia, Berea Independent Baptist in Mechanicsburg, PA, Maranatha Baptist in N.E. Philadelphia, and his home church Harbor Baptist in Hainesport, NJ where he has pastored for 22 years. In addition, he started the Fishtown Christian Youth Center, served as youth pastor at Bethel Baptist Church in Kensington, and pastored Southside Baptist in Southwest Philadelphia.
The Lord used him to touch the lives of countless young people at Christ Independent Baptist Academy, Maranatha Baptist Academy, and Harbor Baptist Academy. Most recently, he was led by the Lord to establish East Gate Baptist College.
His passion for souls was evident in his forty years of Saturday morning soul winning. Pastor Higgins loved his family, good food, long walks, and the Jersey shore. He was a friend to everyone...Above all, he loved his Lord and Saviour Jesus Christ and the time he spent daily reading God's Word and praying for others.
Pastor Higgins leaves behind his wife of 49 years, Beth. Five children: Bridgit (Jeff) McLeod, Shannon (Jay) Reed, Dennis, Jr. (Heather), Patrick (Christina), and Sean (Erikka). He is the proud grandfather of 22 and soon to be a great-grandfather. He is also survived by siblings Agnes, Tom, and Steve.
Funeral services will be celebrated at Solid Rock Baptist Church 420 South White Horse Pike Berlin, NJ 08009 Saturday, November 16, 2019. Viewing will begin at 9:30 AM, funeral service 11:00AM. Interment in Lakeview Memorial Park Cinnaminson, NJ. In lieu of flowers contributions to the Harbor Baptist Church Building Fund 2131 Marne Highway, Hainesport, NJ 08036 are appreciated by the family. To leave lasting condolences or photos, please use the links on this page.